Do Wealth Managers Understand Physical Gold Investments?
Do Wealth Managers Understand Physical Gold Investments? Investment and financial professionals all understand the importance of a diverse portfolio to grow and protect wealth. Now, in these uncertain times with the global economy in turmoil due to the COVID-19 pandemic making an already difficult situation worse, more and more experts are recommending additional shifts towards protecting wealth rather than growing wealth.
J. Rotbart & Co., led by precious metals expert Joshua Rotbart, has advocated buying precious metals, especially gold, as a strategically smart and sound choice for every portfolio. In light of the unprecedented impact that COVID-19 has had on the investment world, including in the financial hubs of Asia, J. Rotbart & Co. commissioned Hubbis (HK) Limited to conduct a survey of the Asian wealth management community (Hubbis Survey) to measure attitudes towards the current situation and future outlook, especially as it related to physical precious metals investments.
Investment Strategies Shifting from Growth to Protection
While a complete focus has not shifted to wealth protection, there is a significant focus on less risky, more conservative strategies. Over 30% of respondents indicated that they emphasize long term and balanced portfolio strategies. Adding those who concentrated on financial security and protection, and more than half are mostly concerned with wealth protection. Physical gold has long been considered a safe haven asset by investors around the world and over millennia. That, combined with its liquidity, compared to other instruments such as stocks or funds, makes gold an ideal choice for wealth protection.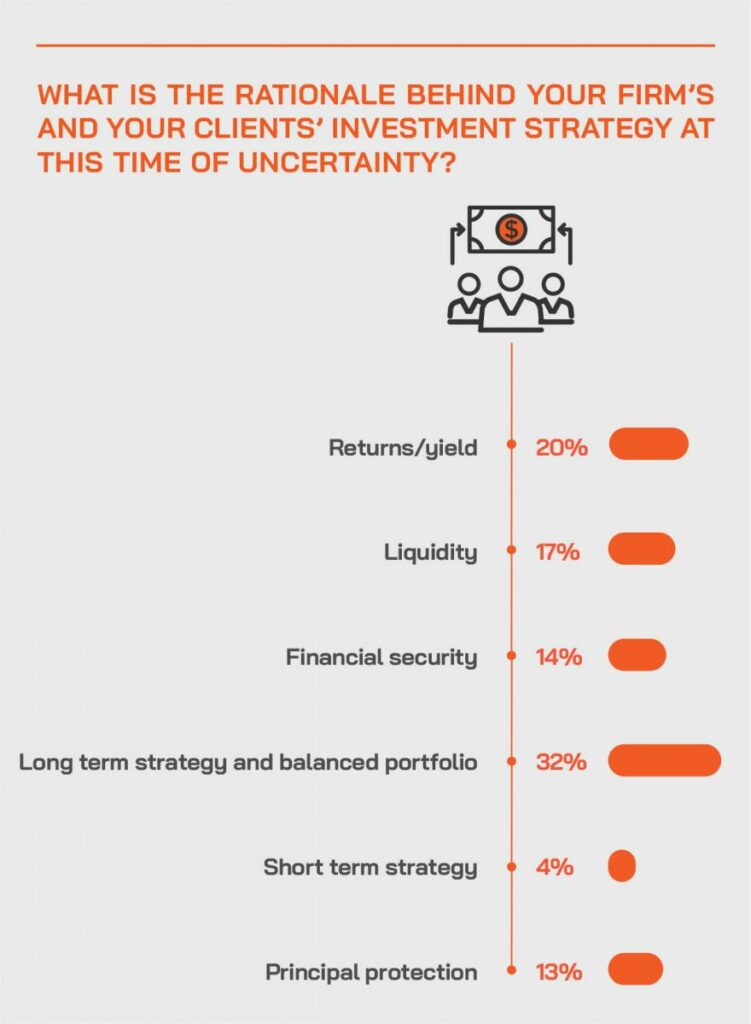 Source: Hubbis (HK) Limited
Precious Metals Play a Role in Asset Allocation
We continue to see precious metals as a major player among asset classes, taking a significant place among stocks, funds, and bonds. This confirms our conclusions above regarding an emphasis on wealth protection and on how precious metals can contribute to such strategies. Standard practice was to allocate roughly around 5% to precious metals. Now, wealth managers have recognized the importance of gold investments in diversifying portfolios to protect wealth. J. Rotbart & Co. has always recommended allocating more than the standard 5%, understanding the essential benefits of investing in physical gold and other precious metals. Not only has gold consistently appreciated over the years, but it is also traditionally an effective hedge against economic and financial weaknesses.

Source: Hubbis (HK) Limited
Precious Metals Investing Lines Up with Wealth Protection
To further confirm gold and precious metals' status as safe havens, we only need to look at their performance over the year. As other markets tanked or fell victim to major volatility due to COVID-19, gold and silver soared. Gold even crossed into all-time high territory when it breached the USD 2,000 / ozt benchmark in August 2020. Although some profit-seekers may have been involved in the gold run, investors shifted to gold and precious metals for shelter and stability. The experts agree. Wealth managers largely pointed to diversification and safe haven protection as the reasons for an increase in gold investments over the last year.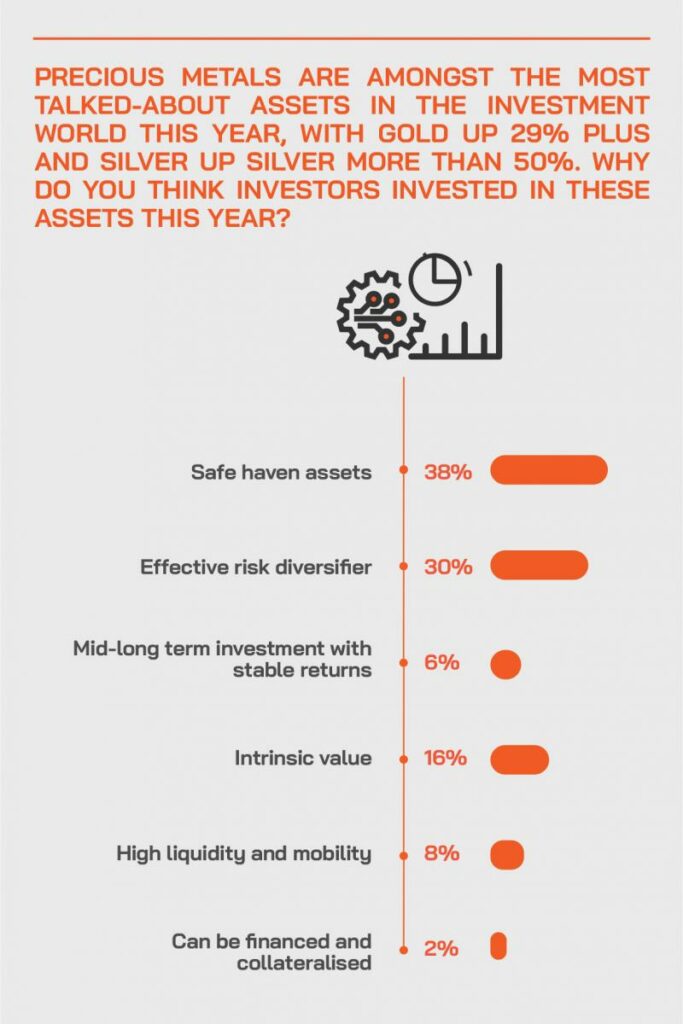 Source: Hubbis (HK) Limited
Wealth Managers Do Offer Physical Gold Investments
A sound majority of wealth managers do offer physical precious metals as an investment choice for their clients. With almost 70% responding that physical gold is an available investment option, we are confident that this is a factor in driving the increased allocation as well as the strategic shift to precious metals shown in the rest of the survey. While widely available, we must question the quality of service. Wealth managers have historically focused on financial instruments such as stocks and bonds and may even stretch into private equity and other investment alternatives. This is most likely because it has become a simple process for them. Investing, managing the transport, and storing physical gold bullion bars and coins may seem more complex for those who are not familiar. That is where a firm like J. Rotbart & Co. comes in. We offer unique expertise and experience to facilitate precious metals investments that can supplement and improve a wealth manager's client service.

Source: Hubbis (HK) Limited
Gold-related Investments Available, Though Not as Good as Physical Gold
Even for firms that do not offer physical gold, they do realize the importance of gold and precious metals overall. When asked why they do not offer physical precious metals products, 67% indicated they offered gold-related products such as ETFs or futures contracts. With this majority, we can conclude that they recognize the importance of gold and precious metals in a diversified portfolio. Over 30% admitted they are unfamiliar with precious metals as well as the logistics involved in physical precious metals investments. This is easily remedied as clients can insist on involving a specialist firm like J. Rotbart & Co. to advise, and if needed, handle any gold investments.

Source: Hubbis (HK) Limited
Wealth Managers Agree on Gold's Significance Now and in the Future
The investment environment was heading for a downturn even before COVID-19 hit. Interest rates in major economies kept getting cut. The US Federal Reserve rates went from 2.5% in May 2019 to 1.75 in March 2020. Now, both the US and UK rates are near or at 0%. These rates, combined with quantitative easing and other "stimulus" measures, have taken a toll on stock markets and other asset classes. Gold and precious metals, however, are now established as a key component in investment strategies. Over 40% of respondents stated that precious metals will play a more significant role in their clients' portfolios. Considering the current significance gold is playing now, as illustrated by the other survey questions, we can confidently add the "same as before" respondents to the overall group that sees gold as a major asset class in the year ahead.

Source: Hubbis (HK) Limited
J. Rotbart & Co. Can Assist Wealth Managers with Precious Metals Investments
This survey has confirmed the relevance and growing importance of gold and precious metals in wealth protection. We at J. Rotbart & Co., with our vast expertise and network focused on precious metals, are ready to assist investors and their wealth managers in fulfilling all their precious metals needs, from advising to buying and selling to storing and financing. Please contact us today to find out more about expanding your precious metals holdings or about investing in gold bullion bars and coins in Hong Kong or anywhere in Asia and the world.