World Gold Council's Guidance on Investing in Gold
Investing in Gold is an excellent investment, especially in these uncertain times. Investors can easily buy and sell physical gold, making it a highly liquid asset. Physical gold also does not have counterparty risks like stocks and bonds, nor is it tied to a monetary authority like fiat currencies are. And because it stands apart from other types of assets, gold is highly prized for diversifying portfolios and hedging against inflation.
Investing In Gold
As beneficial as physical gold to protect wealth, investors still need to be informed on how to buy it safely. To this end, the World Gold Council (WGC) recently published Retail Gold Investment: Investor Guidance, which covers a range of topics aimed to help retail, individual investors when buying physical gold and investing in gold.
J. Rotbart & Co. wants to do our part and share some important highlights from this publication. Specifically, here we will summarize some of the available gold products, potential fees to be aware of, the companies that sell them, and how to assess their operations and their marketing efforts.
What gold products can you buy?
There are different categories of physical gold products that you can invest in. They include:
Bullion bars and coins: You could consider this to be the most direct way of investing in gold. This is because bullion's physical gold content determines its value, unlike collectible coins and jewelry.

Worth noting: Coins are often more expensive than bars if you make a direct comparison (number of coins equal to the weight of one bar) as they are smaller so tend to have a higher mark-up. Also, most coins are legal tender, and so royalties must be paid to the issuing government.

Collectible coins and items: These are different from bullion because they may have added value from their design or rarity. So, in addition to assessing its physical gold content, you may also need to have other experts authenticate and value the coin itself.

Worth noting: You will need to understand numismatic grading for coins as well as find a trusted expert in authenticating and assessing collectible coins.

Jewelry: Here we are talking about solid gold, not gold-plated, jewelry. If you are buying gold jewelry as an investment, then you would probably want 18 or 24 karat solid gold items. And as with collectible coins, the design may add value.

Worth noting: The melt value (how much the physical gold alone is worth) of the gold in jewelry may change depending on its purity. You may need expert authentication and assessment to determine any added value.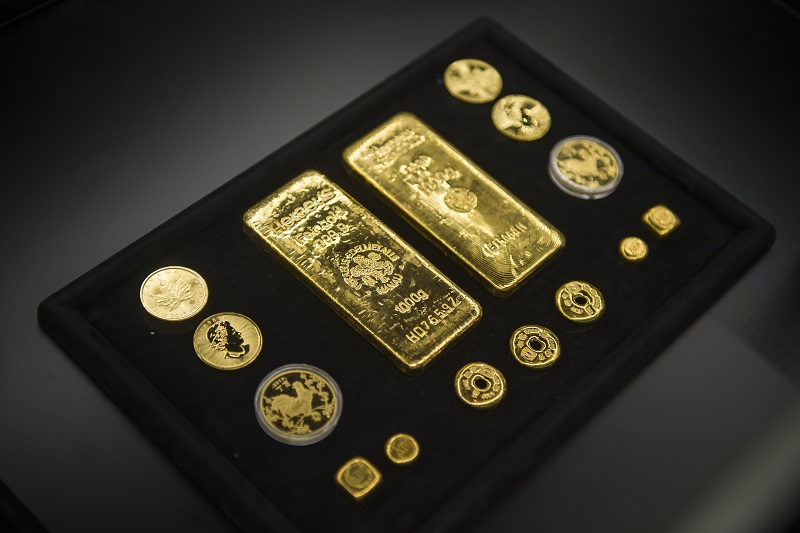 All three of these products mean you own physical and you are investing in gold outright. So, you can sell it, trade it, use it as collateral, or just store it. However, as the full owner of physical gold, you must consider where you will store it, how you will transport it when needed, and how to protect your investment with security and insurance. Typically, a reputable precious metals firm, like J. Rotbart & Co., can help you with these services.
What fees can you expect if you are investing in gold?
As with many investments, there may be fees or charges in addition to the actual price of the gold itself. This can include a transaction fee or commission, calculated as a percentage of the gold's value. There can also be a premium, which is a markup that sellers add to cover costs such as making, sourcing, or transporting the bars or coins. Typically, the larger the piece, the lower the premium. Bars tend to have lower premiums than coins, as they are legal tender as mentioned in the section above. Collectible coins and jewelry also may have higher premiums based on their rarity and quality.
Regarding premiums, not all providers will publish these fees upfront. However, you can usually figure out what these are by taking their pricing for bullion bars and coins and compare them to a gold benchmark price. The London over-the-counter, US futures, or Chinese markets are usually relied on for comparisons. You could also ask providers to detail their premiums and fees so you can make an informed decision. We recommend buying bullion only from dealers that offer transparency on the spot prices used and premiums charged, and avoid buying from companies that offer "all-in" pricing.
Who can you buy gold from?
When looking to start investing in Gold, this obviously is not a small transaction. So, you need a reputable, trustworthy firm. Being recommended by a friend or family member is good, but this does not mean you should not ask any questions. A reliable firm will be fully transparent about their regulatory and licensing requirements and whether they are directly involved in your transaction (and if other https://www.srisritattvausa.com/ambien-online/ parties are involved, they should tell you). Make sure you have their physical contact details – emails and phone numbers are great, but offering only a PO Box is not a good sign.
A simple internet search may be helpful. You also may want to check with regulatory agencies and consumer protection agencies as well as internationally recognized associations such as the London Bullion Market Association (LBMA) or the Singapore Bullion Market Association (SBMA)
The LBMA is particularly important if you want to check on the quality of gold bullion bars and coins. They publish best practices and "Good Delivery Rules" that most reputable precious metals firms around the world follow. Precious metals providers follow these rules to provide consistency in offerings and to offer peace of mind for buyers. For example, you should buy only from dealers who source bars and coins from refiners and mints that are on the LBMA gold/silver lists.
And as mentioned above, since you are buying physical gold, you may want to consider a package that includes transport and storage, for your convenience. But again, you should confirm the reliability and security of the company in these areas as well such as through internet searches and regulatory agencies as mentioned above, as well as by asking the companies for references.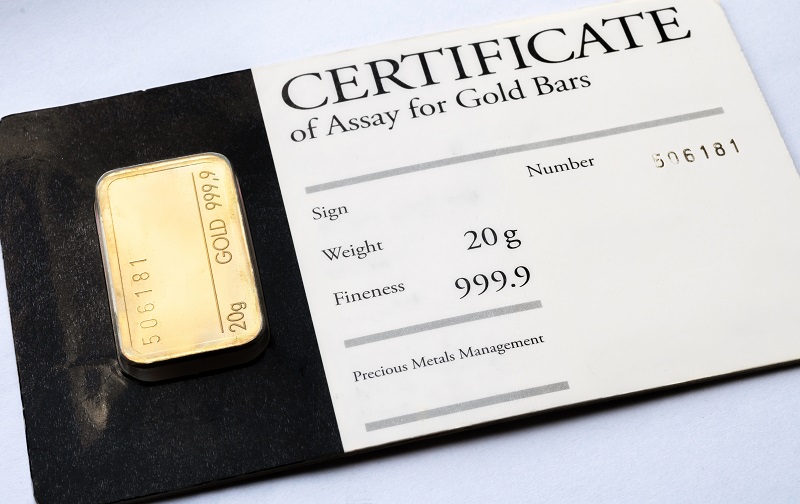 How to assess a firm's operations
There are a few considerations to keep in mind, when investing in gold, such as; the company you buy gold from. First, find out where they source their gold. Is it from their own stock, or do they source from different suppliers? Usually, you can get the best prices if there are multiple suppliers. Also, confirm how pricing is determined. Is it a fixed price, regardless of when the transaction actually occurs, or do you place an order, and pricing is set based on spot prices at the transaction?
Furthermore, make sure your transaction is protected from start to finish. This means ensuring there is sufficient physical security at the provider's location, including for customer data and IT. Regarding IT, companies should be open about their IT infrastructure, including being able to describe their data encryption as well as their backup and recovery strategy. Also, make sure they will protect your privacy, following relevant regulations and ensuring any service provider they use does the same. Additionally, confirm that appropriate insurance has been arranged to protect against loss, damage, and theft. This includes the retailer as well as transport and storage providers.
Finally, when investing in gold, is the company operating responsibly? A reputable company will adhere to the best practices regarding environmental, social, and governance (ESG) factors. Not only should they abide by the highest standards, but they should also source from suppliers who are as trustworthy, offering highest quality, certified-authentic products.
Be aware of marketing and sales efforts
Every investment comes with its own risks and rewards. Gold is no different. Make sure that you are comfortable with the company and the transaction you are planning to undertake. And while gold is an excellent investment in these times, make sure the amount you are investing meets your financial objectives and risk appetite. Furthermore, even as the company you choose may pass your initial due diligence, do not forget to ask for certification to mitigate risks. With bullion bars and coins, ask for proof of authenticity as well as of melt value. With collectibles and jewelry, request a professional service assess the item's grade and value.
Ultimately, you should be fully confident in your decision to buy gold. If an investment sounds too good to be true or if you're receiving aggressive sales pitches from people who claim to be government officials or celebrity endorsements, slow down and reconsider your transaction. Sellers should not claim your savings are at risk or that you must decide immediately and that you should buy their products. This is your wealth. Never be pressured to do something before you are fully aware and informed.
J. Rotbart & Co. is a global expert in gold
With the global economy still in turmoil from the pandemic crisis, gold maintains its position as a smart investment choice. J. Rotbart & Co. recommends allocating around 10% of your portfolio for physical gold. We also want you to confidently buy and investing in gold to protect your portfolio, which is why we offer this overview of WGC's guidance. J. Rotbart & Co. has decades of experience fulfilling precious metals needs for a diverse range of clients. We are transparent in our client transactions and will answer your questions completely so that you are fully confident that you are embarking on the most beneficial transaction with us at J. Rotbart & Co.