How will the turmoil in 2022 affect precious metals?
Recent history has shown us that investors prefer and rely on gold to stabilize their portfolios through COVID and now into the conflicts between Russia and Ukraine. Not only have investors looked to gold as a safe-haven, but its price has remained elevated as geopolitical risks linger. Yet, how long this will continue is a constant discussion in today's market.
What will happen to gold prices in 2022? The risk of military conflicts expanding beyond Russia and Ukraine have created mass uncertainty for the current global economy, and typical indicators for the growth outlook will not have the same impact on the price of gold. For example, if the battles between Russia and Ukraine do not spread to involve other countries and reach a settlement soon, most analysts predict that gold prices will start decreasing towards the end of 2022.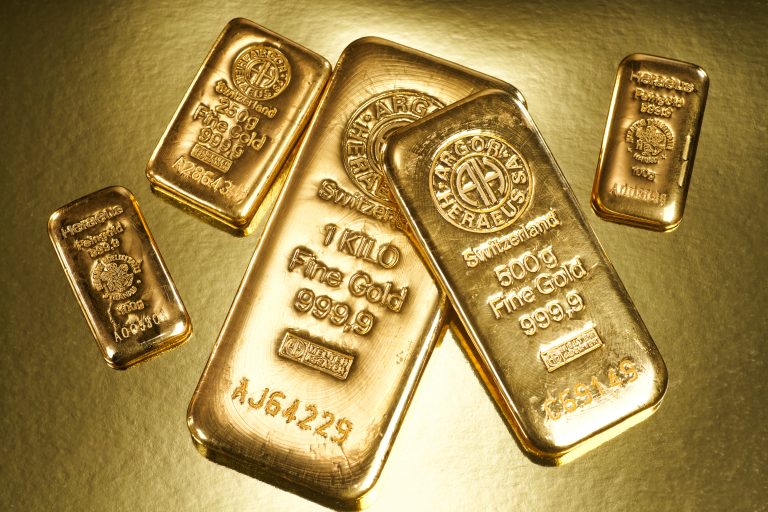 Factors that impact gold prices
The price of gold is highly influenced by various factors, including political unrest, global economic conditions, and the demand for gold in the jewelry and technology sectors. How these factors develop over the course of 2022 will determine whether gold's value will increase over time.
Geopolitical tensions
Recent geopolitical issues worth noting include the truckers' protest in Canada, the George Floyd protests in the US, and, of course, Russia's invasion of Ukraine. The ongoing war between Russia and Ukraine has incited the fear of World War III, prompting investors to move to safe-haven assets. When TD bank of Canada froze the bank accounts of protesting truckers, it signaled to investors that bank instruments and accounts were not secure, so they looked to physical assets such as gold to store and protect their wealth.
Global economic conditions
Since 2020, COVID-19 has been causing lockdowns, disrupting supply-chains, and more. The pandemic has affected businesses, which in turn caused global unemployment rates to reach 6.3% in 2021. Global economic activity slowed down severely, and the US Federal Reserve has been printing money to keep the economy afloat while increasing national debt, prompting interest rate hikes. Increased interest rates in turn usually drive up gold prices as it is recognized as a hedge against inflation. In the past 27 months, the price of gold has risen by +27% (+24% in 2020, -4% in 2021, and +7% so far in 2022).
Gold supply and demand
The pandemic halted gold production as mines shut down worldwide and supply chain issues caused further delays. In 2021, gold supplies decreased 1% YoY while demand increased 10%, causing shortages and spurring gold prices to increase. This demand stems mainly from central banks and consumers. Central banks accumulated 436t of gold in 2021. That is 82% more than central bank gold purchases in 2020, and these acquisitions increased global gold reserves to a 30-year high. Furthermore, retail consumption, especially in jewelry and technology, recovered in 2021, sparking consumer demand. Jewelry fabrication grew by 67%, and gold for tech products grew by 9% to a three-year high of 330t.
2022 forecast for gold
The price of gold has climbed to its highest level since August 2020 as investors seek safe-haven assets in response to Russia's invasion of Ukraine. The precious metal has reversed a decline seen in late January but remains under pressure from the prospect of the US hiking interest rates throughout this year. Gold ended 2021 at US$1,805.85 an ounce, down by around 4% for the year, but it has risen by over 7% in 2022 (as of 28 March 2022) and is expected to continue higher as the geopolitical uncertainties induce investors to invest in gold. The following factors are key to increasing gold prices through 2022:
Russia – Ukraine War
Fears of Russia extending the war to Europe's ex-Soviet Baltic nations such as Lithuania, Latvia, and Estonia have caused great turmoil in the precious metals market. If Russia attacks other countries, it could lead to a world war. This would be a major catalyst to pushing the price of gold higher. Some analysts warn that Russia could soon resort to selling its gold reserves as the country faces severe sanctions and a plummeting ruble. On the other hand, Goldman Sachs believes gold will hit US$2,150/ozt because the Russian invasion paved the way to a high inflation path. These two opinions are behind the uncertainty prompting the price of gold to rise.
Inflation
Annual inflation reached 7% in 2021 in the US, further worsening the average household's disposable income, which had been decreasing due to high unemployment rates. Gold is a hedging tool against inflation, and hence its price reacts to inflation numbers. Typically, the value of gold rises when the cost of living increases. Gold is set to continue on its upward path as US inflation increased to 7.9% YoY in February 2022.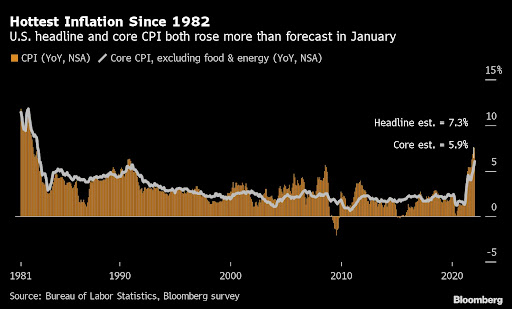 Physical gold vs Bitcoin
Gold is recognized as a safe-haven asset, and it is especially treasured during times of crisis. On the other hand, Bitcoin has been gaining influence as "digital gold", but its recent performance in 2022 and previous crisis has negated this presumption. Earlier this year, the total cryptocurrency market wiped out US$1.4 trillion in value during a January 2022 selloff. When the news of Russia's invasion came out, BTC dropped from US$45,000/BTC to around US$37,200/BTC. This reconfirms gold and other precious metals like silver, platinum and palladium as true safe-haven assets during times of duress/crisis. If the cryptocurrency market and other investment options such as stocks continue to decline, investors will turn to more stable assets like physical gold to store and protect their wealth.
Analyst predictions
J. Rotbart & Co. are optimistic regarding the price of gold in 2022 – a view shared by other analysts and prominent investors. This includes analysts at Goldman Sachs, who expect prices to rise to US$2,150 / ozt. However, despite gold's tremendous performance so far, the Swiss investment bank UBS expects gold to gradually lower to US$1,600 / ozt by the end of the year. Although the price of gold is currently up over 7% (as of 28 March 2022), it is quite improbable to see it dropping US$350 / ozt (~18%) through 2022. Additionally, the Lead of Commodities and Currencies Capital and research expert Kshitij Purohit stated, "Gold's influence on the global economy has been amplified by the synergistic effect of both the existing inflationary pressures and geopolitical instability."
Conclusion
Overall, the forecast for gold in 2022 looks promising. Although the main reason behind the 8% increase in its price seems to be Russia's invasion of Ukraine, other factors such as inflation, increased gold demand, and global economic slowdown due to the pandemic will continue to stimulate the rise in gold price throughout 2022. As the current price reaches all-time highs, it could well cross the US$2,100/ozt mark as the war continues in Ukraine and further sanctions are imposed on Russia.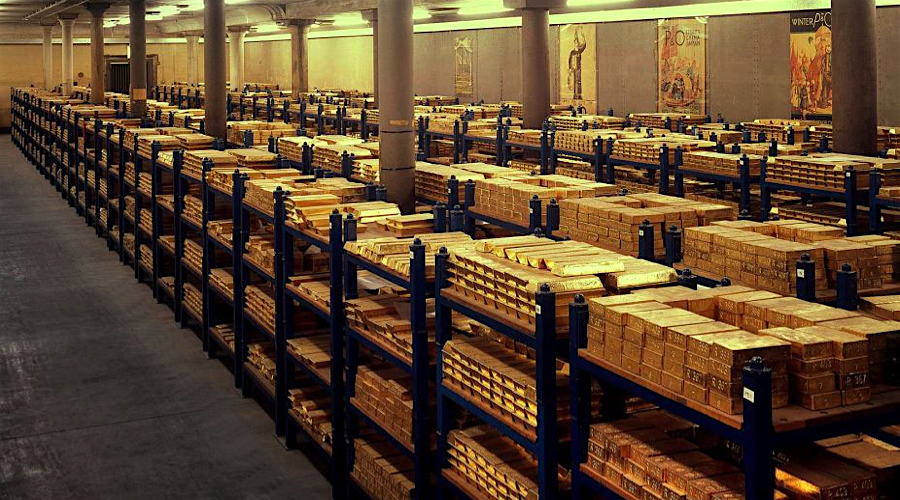 Let J. Rotbart & Co. Assist in Increasing Your Precious Metals Holdings today!
J. Rotbart & Co. provides efficient and reliable solutions for clients wishing to buy, sell, store, transport and finance physical precious metals. We source precious metals bars and coins globally in a secure and confidential manner. The bars and coins are all newly minted and are sourced from refineries and mints of the London Bullion Market Association (LBMA), thus guaranteeing their authenticity. The bullion can be deposited in secure storage facilities in a dozen locations worldwide or delivered globally to a location of your choice.
Let us know what you think via our social media accounts, we would love to hear from you.