Trump's Golden Touch – The Impact of Trump's Candidacy on the Price of Gold
Donald Trump is having an unprecedented impact on the Price Of Gold. Our research found a 75% positive correlation between Trump's campaign gains and gold prices over the last 30+ days.
The US economy is the world's 2nd largest, and as such any event impacting it is bound to have macroeconomic implications. Presidential elections are an excellent example, and the more controversial and eventful they are, the bigger the impact. We've been following the impact these elections have had so far with great interest, closely monitoring for our clients how the play of events impacted the Price Of Gold.
A Clinton Win Wasn't News
Regardless of the politics, it's clear, through the particular lens of gold prices, that a Clinton win was perceived as maintaining the status quo. During the long months during which the consensus leaned towards a Clinton win gold prices hardly budged, in fact, more excitement was generated by the upcoming rate hike.
Trump's Fortunes are Impacting Yours With The Price Of Gold
Over the past few weeks, as the Trump ticket strengthened and a Republican victory started appearing like a plausible scenario, gold prices started surging in response. Apparently the global economy viewed a Trump victory with skittish concern, of which the increasing prices of gold were a very obvious manifestation.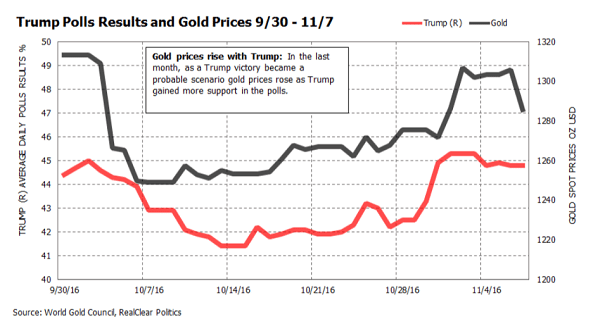 It's nearly impossible to predict what a Trump presidency would actually look like, but the 75% correlation between Trump's campaign gains and the surging price of gold can only be read as a reflection of the concerns this eventuality raises in the markets.
In hindsight, it's easy to see how Trump's strong and vocally expressed opinions on foreign affairs, jobs, taxes and the economy, together with his lack of political experience would be a cause of concern. Speculations extrapolating his statements into political actions that would impact US relations with Mexico, China, and Russia, as well as musings regarding his domestic policies and the impact they might have on the economy, all suggest – to some – a slowing down of the economy, and the rising price of gold is an immediate result.
Regardless of who wins, it's going to get bumpy
The American elections are part of a larger set of events that have markets nervous.
Continuing uncertainty over the Brexit fallout, the upcoming French and Italian referendums, and the 2017 German elections are all driving global market anxiety.
While the following outlook may be worrying, it's not unreasonable:
"…The election of Donald Trump in the US would likely cause the stock market to crash and plunge the world into recession…"


Simon Johnson, former chief economist of the IMF, professor at MIT Sloan, and a senior fellow at the Peterson Institute for International Economics
Whether these pessimistic scenarios materialize or not, remains to be seen, but prudent investors clearly prefer to be on the safe side and are already shifting funds into safe havens, of which gold has always been a preferred option. Should Trump actually win it's reasonable to assume this trend will continue, driving Price Of Gold even higher, at least until his presidency will take clearer form.
Check-out our follow up article Here The Trump Effect, Reversed and take a look to see if he really made a lasting impact or not!
Buy Gold with J. Rotbart & Co.
Why Us
J. Rotbart & Co. is a boutique firm specializing in physical precious metals and other tangible assets. Should you require our services in Hong Kong, Singapore, Manila or anywhere in the world. Do not hesitate to contact us. We are happy to help you.
---
Sources:
Real Clear Politics – average Trump poll results
World Gold Council – gold prices
The Syndicate Project: Economic Consequences of a Trump Victory by Simon Johnson