Palladium: are precious metals in high demand or a bubble destined to burst?
Gold has always been the shining star of the precious metals family. However, in the past few years, a new star is rising: Palladium (Pd), named for Pallas Athena, Greek goddess of wisdom
In the last 3 years, The price of palladium more than tripled, reaching an all-time high of more than USD 1,600 / ozt on March 21, 2019. Then it dropped around 15% in the past two months to its current spot price of USD 1,333.96 / ozt (May 21st, 2019).
So what is Palladium and why does the price fluctuate so much?
Palladium belongs to the platinum group of metals and it is one of the Earth's crust's rarest elements. It is mostly mined in Russia, South Africa, Canada and USA. Palladium is mainly used in catalytic converters. These are used in gasoline engines to convert toxic and harmful gases into less damaging substances.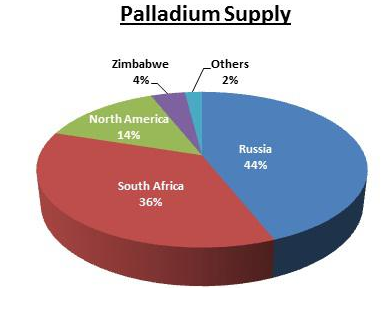 During World War II, platinum was a strategic government resource and restricted to military use in the United States. Palladium became an alternative jewelry-making metal. Due to its unique density, it can be beaten and cast into leaf as thin as 1/250,000 inch. It withstands corrosion and oxidation and does not tarnish under normal circumstances.
Investment in palladium
Investors snap up palladium (11 percent of the total demand). Like other precious metals, palladium bullion can be purchased in bars or coins. Palladium bars are minted by refineries as Valcambi and Credit Suisse. Palladium American Eagles and Canadian Maples are among the most popular coins.
The London Platinum & Palladium Market is the organization in charge of responsible sourcing. They work closely with the biggest refineries in the world and provide the guidelines for platinum and palladium sourcing and handling.
The LPPM has also set the standard for qualification as a "Good Delivery" Metal, to help the trading process among the organization's members. A "Good Delivery" metal must conform to the following criteria:
Form must be plate or ingot
Purity is at least 99.95% palladium
Maximum weight permitted is 6 kg (192.904 ozt)
Markings must include:

The producer's recognized mark.
The letters Pd or palladium with a stamp indicating the purity.
An individual number or mark.
Year of manufacture
The weight in grams, kilograms or troy ounces

Are you risk-averse? Maybe palladium is not for you. However, if you look at the sharp increase in its price, you may want a piece of the action. Consider blending the potential upside of palladium with the stability of gold.
Trends in supply and demand for palladium
A major driving force for the rise of palladium is the relentless growth of gasoline engine use. Although not a green alternative, gasoline is still more eco-friendly than diesel fuel. Since Diesel is out of favor and under tighter regulations, more gasoline engines mean more demand for palladium.
Another reason for palladium's bright future is the fact that recycling is constrained, and automakers are years out from finding a substitute for palladium in catalytic converters. For the past five years, approximately 60% of palladium production has gone toward automobile catalytic converter production.
The second largest use for palladium is in electronics (15% of the total demand), mostly for multi-layer ceramic capacitors (which help control the flow of current to various parts of a circuit).
Palladium is also used for jewelry (appx. 6.5% of the total demand). When it is mixed with yellow gold, the newly combined alloy is stronger than white gold.
The dentistry industry uses palladium (6% of the total demand) in dental alloys for the manufacture of crown and bridge restorations constructed by dental technicians. It is also used in chemicals and in electronic devices.
Although the market deficit narrowed, palladium prices surged to record levels in 2018 and lease rates peaked at over 30%.
Auto demand rose by 2%, despite lower Chinese car output, as stricter vehicle testing lifted European loadings.
Exceptionally strong consumption in the chemical industry supported industrial demand. Primary supplies were also up 9%.
Trends in price of palladium
Palladium enjoyed a remarkably consistent upward trend in price since 2016. Much of it has been attributed to the tightening demand/supply dynamic, as production failed to keep up with a sharp rise in demand globally.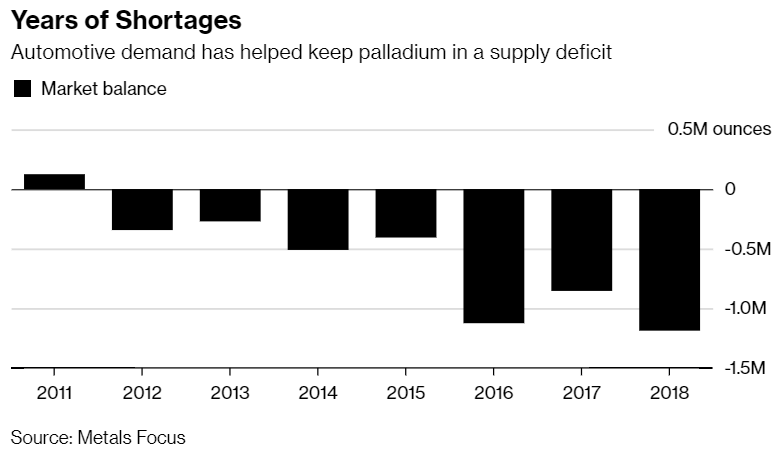 Demand grew. Production did not. The resulting squeeze drove prices up. The automotive sector remains a key source of demand, yet it is that demand which markets are worrying about. Fears over weaker auto sales have hit palladium hard because of worries over the effect of slowing global growth.
While the projected increase in electric vehicles is significant, "it doesn't compare to the kind of expansion expected in hybrid electrics", JPMorgan Chase & Co. said in an October report. Hybrids will most likely grow from just 3 percent of global market share in 2016 to 23 percent of sales by 2025. Since hybrid cars will probably be a huge chunk of the automobile market in the next few years and need precious metals to control pollution (mostly palladium) the use and consumption of the metal is predicted to surge, which will probably impact its price.
Since March 2019, palladium experienced its sharpest downturn since late 2015.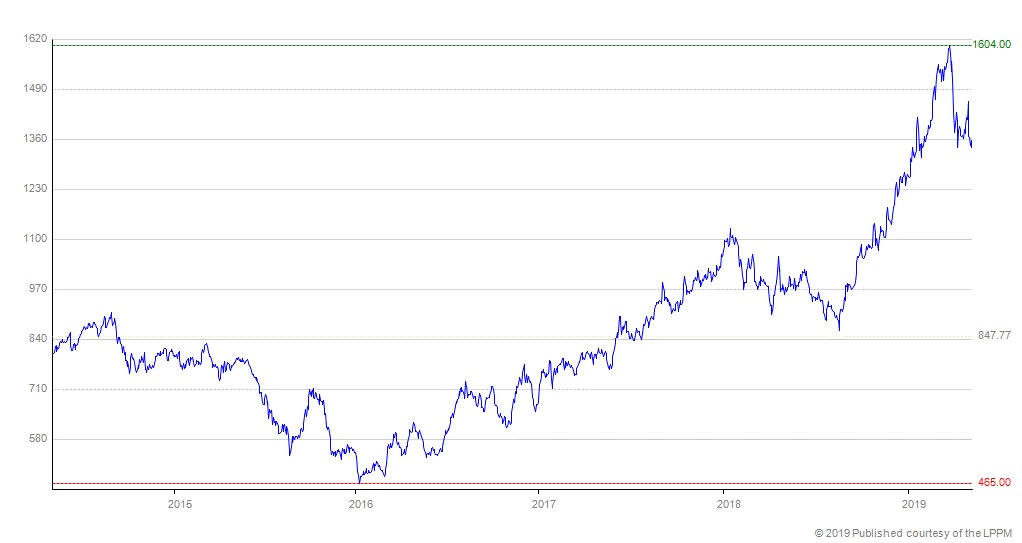 Possibly, U.S. data that has improved investors' appetite for riskier assets hurt the price of palladium.
In any case, the current slump likely to be a case of the market normalizing after a phenomenal couple of years.
2019 possible trends
According to Johnson Matthey's analysts, gross palladium demand will most likely rise by 9% in 2019, as lower industrial use is offset by a surge in automotive consumption. Combined secondary and primary supplies will increase by 2%, mainly due to higher auto scrap volumes.
The implementation of China 6 legislation (likely enforced in 2020, though some areas in China will start enforcing it now in 2019) will result in stricter regulations and thus a change in palladium use in Chinese cars.
"Vehicles are being tested under a wider range of driving conditions, making emissions control more challenging. Exhaust aftertreatment systems are becoming more complex and automakers are adding more palladium to meet the new requirements" said Margery Ryan, Principal Automotive Analyst at Johnson Matthey.
Electrical and dental demand will fall, as higher prices stimulate thrifting and substitution.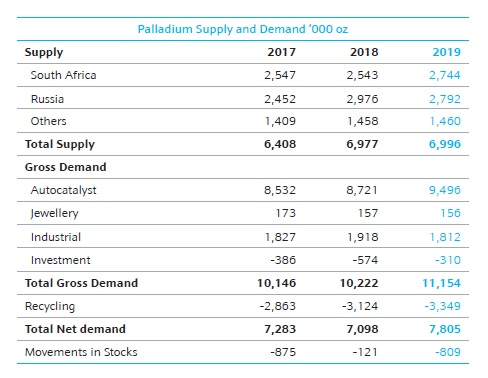 J. Rotbart & Co. offers clients the choice to invest in diverse precious metals products and bullion storage. Gold buillion is a more conservative and stable asset, but palladium has gained traction from precious metals investors that are looking for an asset class of "higher risk – higher reward" and for clients interested in adding physical palladium bullions as a diversification to their precious metals portfolio.